FROM

Click link below picture
.
WILLIS, Texas — Friends and family of a Houston-area woman who was fatally shot trying to save her newborn son from being abducted remembered her fondly Tuesday as a mother who lived for her children and heroically fought for one of them until death.
.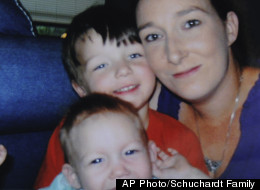 In this undated family snapshot Kala Marie Golden,
right, is shown with her two sons. Golden was killed
and her 3-day-old baby abducted outside a pediatric
clinic in Spring, Texas.Verna Deann McClain has
been charged with capitalmurder and the baby was found
and is now withrelatives. (AP Photo/Schuchardt Family)
.
.
.Click link below for story, slideshow, and video:
http://www.huffingtonpost.com/2012/04/25/kala-golden-schuchard-shot_n_1451654.html?ref=topbar
.
_____________________________________________________