FROM

Click link below picture
.
WASHINGTON — The nation's state legislators concluded their fall forum here Friday by praising bipartisanship through a tribute to their former leader, who was ousted from his own legislative seat in a bitter Republican Party war that pitted moderates against conservatives.

Kansas Senate President Steve Morris (R-Hugoton) was given a minute-long standing ovation by members of the National Conference of State Legislatures for his leadership of the group.
.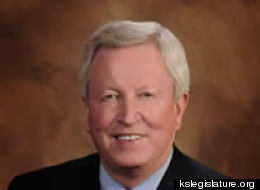 Kansas Senate President Steve Morris
.
.Click link below for story, slideshow, and video:
http://www.huffingtonpost.com/2012/12/07/steve-morris-kansas-ncsl_n_2258131.html?ncid=edlinkusaolp00000003
.
___________________________________________________