FROM

Click link below picture
.
Birds can sing. They can dance. And they may even experience an emotional response to music similar to humans.

A new study from Emory University in Atlanta found that when birds hear birdsong, their brains show activity similar to that seen in humans when they listen to music.

"We found that the same neural reward system is activated in female birds in the breeding state that are listening to male birdsong, and in people listening to music that they like," Sarah Earp, an Emory undergraduate who co-authored the study with neuroscientist Dr. Donna Maney, said in a written statement.
.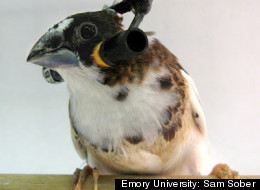 A Bengalese finch outfitted with headphones. Research on how the birds learn to sing may lead to better human therapies for vocal rehabilitation.
.
.Click link below for story, slideshow, and video:
http://www.huffingtonpost.com/2013/01/03/birdsong-birds-emotions-music-humans-brain-imaging_n_2397141.html?utm_hp_ref=brain
.
___________________________________________________