FROM

Click link below picture
.
Two popes prayed together Friday at the Vatican, one Catholic and one Orthodox, in a sign of improving ties following the election of new leaders for both churches.

Pope Francis welcomed the head of the Coptic Orthodox Church of Egypt, Pope Tawadros II, in the first such meeting at the Vatican in 40 years, saying his visit "strengthens the bonds of friendship and brotherhood" between the two churches.

The Coptic and Catholic churches split in the fifth century over theocratic differences.

Christians comprise about 10 percent of Egypt's population. The Coptic Orthodox Church of Egypt counts about 10 million faithful, while the Coptic Catholic Church in Egypt – whose faithful are loyal to Pope Francis – counts about 165,000.
.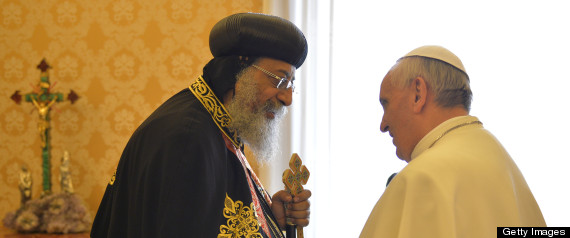 .
.Click link below for story and slideshow:
http://www.huffingtonpost.com/2013/05/10/pope-tawadros-ii-pope-francis_n_3251288.html
.
___________________________________________________