FROM

Click link below picture
.
A Florida man is accused of pretending to be a home intruder and violently attacking his wife.

Timothy Hunter, 29, and his 27-year-old wife contacted deputies Wednesday night, claiming that a masked man entered their Deltona home and attacked the woman, according to a release from the Volusia County Sheriff's Office.

The wife told officers that while Hunter was on a trip to the store, the intruder man burst into the bedroom, pushed her off the bed, slashed her and demanded money before fleeing. Two young children were at home at the time, though her husband took their infant with him on his errand.
.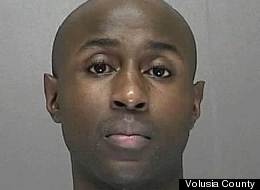 Timothy Hunter, 29, has been charged with aggravated battery and tampering with evidence.
.
.Click link below for story and slideshow:
http://www.huffingtonpost.com/2013/05/17/timothy-hunter-home-invasion-attack_n_3292637.html?ref=topbar
.
____________________________________________________