FROM

Click link below picture
.
NASA has released a series of new high-definition photos from Mars.

The images from the Martian surface were taken by different cameras on NASA's Curiosity rover over the past few weeks. The images depict the landing site, various features of Gale Crater, Mount Sharp and tracks created by the rover.

NASA has been releasing pictures since early August, when Curiosity landed on Mars. The first color photo, which was released on Aug. 7, had a hazy, poor quality, because the dust cover was coated with fine debris.

The new rich, high-resolution images include 360-degree color panoramas as well as animated GIFs.
.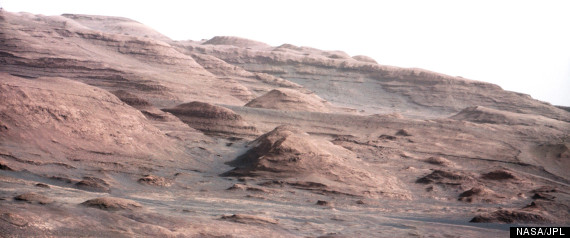 .
.Click link below for story, slideshow, and video:
http://www.huffingtonpost.com/2012/08/29/new-hd-mars-pictures-curiosity_n_1840585.html?utm_hp_ref=mars-rover
.
____________________________________________________