FROM

Click link below picture
.
Andrea Rebello, 21, of New York, was shot dead by a masked gunman while her twin sister was in the house, cops told the New York Post. The gunman was also killed in a firefight with police.

The intruder broke into the home at about 2:20 a.m., where the sisters, one of their boyfriends and another woman were staying. The suspect held them hostage for a short time, but let the unidentified woman go to get cash from an ATM. She called police, NBC News reports.

Rebello and the gunman were killed during a firefight that erupted when police arrived. Police told the Post that the suspect killed Rebello, and cops killed him.
.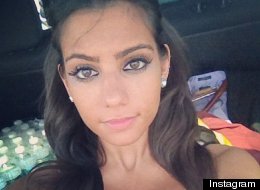 A Hofstra University student was killed in her home Friday morning during a botched robbery.
.
.Click link below for story, video, and slideshow:
http://www.huffingtonpost.com/2013/05/17/andrea-rebello-shot-dead-home-invasion-robbery_n_3293640.html?icid=maing-grid7|myaol|dl5|sec1_lnk3%26pLid%3D314982
.
___________________________________________________