FROM

Click link below picture
.
Just in the neck of time.

Doctors in Kansas treating a 7-month-old girl thought the child had a swollen gland, until they made a frightening discovery — a feather poking out of the baby's neck.

Initially, doctors prescribed antibiotics and sent little Mya Whittington home with her parents, but then her jaw swelled to the size of a golfball, according to the Associated Press.
.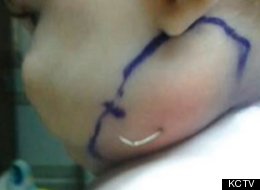 Doctors pulled a feather from a baby's neck
.
.Click link below for story, videos, and slideshow:
http://www.huffingtonpost.com/2012/12/13/feather-pulled-from-baby-mya-whittington-neck_n_2294343.html?icid=maing-grid7|myaol|dl2|sec1_lnk3%26pLid%3D245147
.
____________________________________________________