FROM

Click link below picture
.
A Denver-area woman died Tuesday night after an assault rifle she was handling accidentally fired and shot her in the head.

Witnesses told ABC Denver affiliate KMGH that Anastasia Adair, 22, was passing an AK-47-style assault rifle to her husband, Dana "Shane" Adair, when the gun went off. A second shot was fired when Anastasia fell and dropped the rifle, but no one was hit by it, two witnesses and the husband told police.

Shane Adair told police that the gun had a light trigger pull. Federal Heights Police Lt. Gary Toldness said that the fatal bullet's trajectory appeared consistent with the witness accounts of an accidental shooting. The investigation is continuing.
.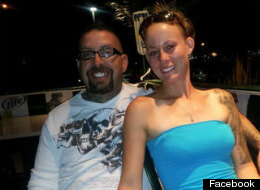 Anastasia Adair (R), shown with husband Dana "Shane" Adair (L), was killed in an accidental shooting at her Colorado home Tuesday.
.
.Click link below for story, video, and slideshow:
http://www.huffingtonpost.com/2013/05/17/anastasia-adair-dead-dies-assault-rifle_n_3293336.html?ref=topbar
.
_____________________________________________________