FROM

Click link below picture
.
The moon has a new hole on its surface thanks to a boulder that slammed into it in March, creating the biggest explosion scientists have seen on the moon since they started monitoring it.

The meteorite crashed on March 17, slamming into the lunar surface at a mind-boggling 56,000 mph (90,000 kph) and creating a new crater 65 feet wide (20 meters). The crash sparked a bright flash of light that would have been visible to anyone looking at the moon at the time with the naked eye, NASA scientists say.

"On March 17, 2013, an object about the size of a small boulder hit the lunar surface in Mare Imbrium," Bill Cooke of NASA's Meteoroid Environment Office said in a statement. "It exploded in a flash nearly 10 times as bright as anything we've ever seen before." [The Greatest Lunar Crashes Ever]
.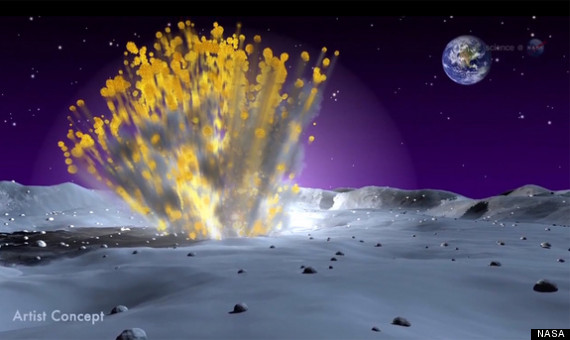 This artist's illustration shows a meteor crashing into the surface of the moon. Scientists say hundreds of space rocks impact the lunar surface every year.
.
.Click link below for story, videos, and slideshow:
http://www.huffingtonpost.com/2013/05/18/moon-explosion-meteorite-crash-lunar-surface-nasa_n_3294710.html?icid=maing-grid7|myaol|dl12|sec1_lnk3%26pLid%3D315221
.
___________________________________________________