FROM

Click link below picture
.
LONDON — Emergency workers who needed to take an obese teenager from her home to a hospital in Wales had to break through a wall of the residence to get her out and into an ambulance, officials said Friday.
.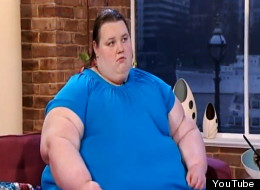 Georgia Davis weighed 60 stone, or 840 pounds,
when emergency workers cut her out of her UK
home, using scaffolding to lower her to the ground
floor to go to the doctor.
.
.Click link below for story and video:
http://www.huffingtonpost.com/2012/05/25/georgia-davis-835-pound-cut-out-of-house-obese-teen-uk_n_1546280.html
.
_____________________________________________________