FROM

.
A soldier stationed overseas watched in horror as his pregnant wife was stabbed in her home while the two chatted on video.

Rachel Poole, 31, was rushed to the hospital in critical condition after a man who was allegedly hiding in the home stabbed her multiple times in Texas on Wednesday. Poole was nine months pregnant at the time. Police say Corey Bernard Moss stabbed Poole from behind with a stainless steel knife, according to KFOX.

During the attack, her husband, Justin Pele Poole, an American soldier stationed thousands of miles away in Asia, saw the attack unfold as the two talked over FaceTime, according to ABC15.

Poole was still in critical condition when her baby, Isabella, was born. Doctors performed a successful cesarean section, her stepfather, Gary Jones, told ABCNews.com. The baby is listed in good condition.

Police Det. Mike Baranyay told CNN that the woman recognized her attacker and repeatedly screamed his name to her husband.

Poole managed to call authorities. A short time later, the suspect, 19-year-old Corey Bernard Moss, was located by Fort Bliss Military Police and turned over to El Paso police. Detectives said the suspect was inside Poole's house before she came home.
.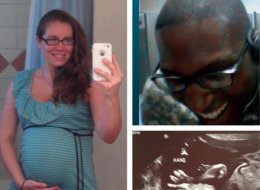 .
.
Click link below
for story, video and slideshow:
.
__________________________________________