FROM

Click link below picture
.
Quvenzhané Wallis just made history. With the announcement of the nominees for the 85th annual Academy Awards this morning, the Louisiana-born Wallis, just 9 years old, is now the youngest ever nominee for Best Actress in a Leading Role.

Wallis, who was just 5 when she auditioned for the role in "Beasts of the Southern Wild," has received major recognition and critical acclaim for her portrayal of the character Hushpuppy.
.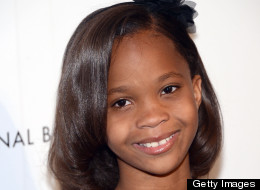 Quvenzhané Wallis was nominated for an Academy Award for Best Actress.
.
.Click link below for story, video, and slideshow:
http://www.huffingtonpost.com/2013/01/10/quvenzhane-wallis-oscars-best-actress_n_2446855.html?utm_hp_ref=mostpopular
.
_____________________________________________________